Meet The Staff At New Life Chiropractic
Chiropractor Joel Feeman DC, CAFNI, BCN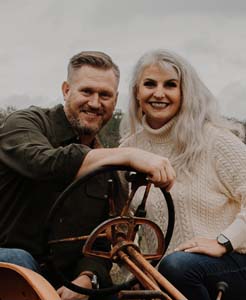 Dr. Joel Feeman is a 2000 graduate of Life University School of Chiropractic. He is a native of Ohio and did his undergraduate work at Ohio State University.
Since opening New Life Chiropractic Center in March of 2001, he has been blessed to serve thousands of people in Fort Wayne and surrounding areas.  Dr. Feeman is not the 'typical' chiropractor but provides a highly specialized type of care.  With a background in both corrective chiropractic care and functional neurology, he performs cranial and facial work, as well as KST.  Dr. Feeman has studied with Trigenics Functional Neurology Institute, and is certified through the American Functional Neurology Institute. He has completed work, and continues to work, with special populations, while also treating patients through functional neurology rehabilitation.  Dr. Feeman is also a Board-Certified Neuropathy Specialist, accredited by the American College of Physical Medicine (ACOPM).
He is an active member of the International Chiropractic Association and the International Chiropractic Association of Indiana.  He has done missions/ministry work in Mexico, Dominican Republic and India with Chiropractors Feeding the Hungry, Matthew 10 Ministries, and World Mission Chiropractic.  He is also a member of Preferred Chiropractic Doctor, has received many awards, including the Body by God Excellence Award for his excellence and commitment to Chiropractic, as well as the Award of Excellence by Teach the World about Chiropractic. Dr. Feeman has also studied under, and continues to study with many of the worlds' elite in chiropractic, health, and natural healing.
Dr. Feeman's motto for his life and his practice is to "serve God by serving man, through the vehicle of principled, scientific, Chiropractic, and to empower people with the truth of God's awesome healing power." He loves to share the magnificence of the body's creation and its ability to heal.
Dr. Feeman is passionate about teaching his patients the truth relating to vitalistic health and is dedicated and committed to helping families live healthier, happier, more productive, higher quality lives.
Dr. Feeman was first introduced to Chiropractic when he was young. As a child, he suffered from many sinus and allergy problems. His parents heard about Chiropractic through a friend who shared with them the incredible truth of healing and how Chiropractic works. They learned about how the nervous system controls everything in the body, and how when this is interfered with, the body is not able to function and heal effectively and properly. Once they learned that Chiropractic was about detecting and removing interference to the nervous system, and that God's power that created the body also heals the body, the entire family, including all 7 children, began Chiropractic care. It changed their lives and left quite an impact on a young Dr. Feeman. At nine years old he decided that from then on, he would avoid drugs, surgery, and "traditional" medicine and instead actively promote true healing.
Dr. Feeman and his high school sweetheart Rachel married a month after high school graduation.  They have four children, and now love being grandparents.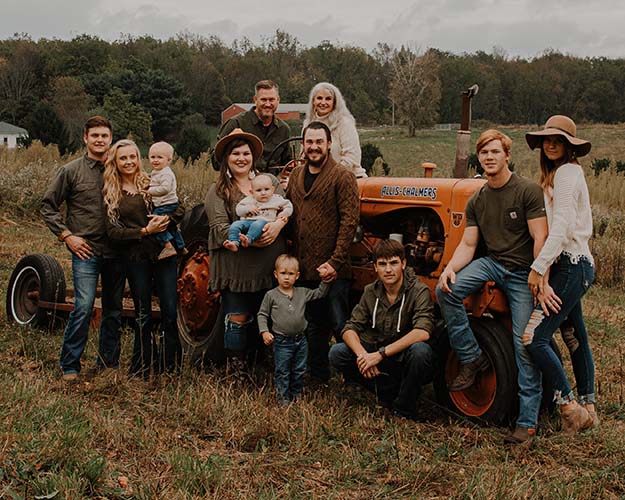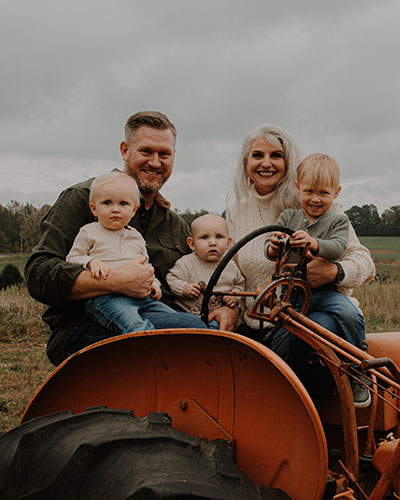 ---
Chiropractor Travis Worthman DC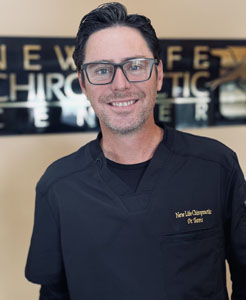 Dr. Travis J Worthman grew up in Fort Wayne, IN much like many of you. His wife Kathy is from Atlanta, Ga works for Steel Dynamics in Fort Wayne, and is loving life in Indiana. Dr. Travis has 2 children, Sophia, and Joshua. They are as amazing, energetic, and unforgettable as chocolate cake and ice cream. His father Mike was in sales and real estate, and his mother was a teacher for the Whitley County school system for 37 years. Both his parents are retired and live in the Tri-Lakes area just north of Columbia City, IN.
He is very close to his family and loves people. In addition to being a chiropractor, Dr. Travis is also a pastor. Both he and his wife were ordained in March 2019 and pastor a small flock.
As a kid growing up his parents taught Dr. Travis to love adventure, and the outdoors. He learned how to snow ski at 3 years old and today enjoys skiing as much as he can. Other hobbies include traveling, hiking, fishing, boating, camping, woodworking, good conversation, and a hot cup of coffee.
Dr. Travis's love for people and desire to see them enjoy a better quality of life you might say is what lead him to become a chiropractor. After high school, he attended IPFW to complete his undergrad studies and moved to Marietta, Ga in 2000 to begin chiropractic college. It was not a health problem, to begin with, that brought Dr. Travis to know what a chiropractic adjustment was able to do, but his love of working with people. The human body fascinated Dr. Travis and through chiropractic school, he learned extensively God fearfully and wonderfully created us to be. Now with this knowledge and understanding of how our human body functions, heals and restores itself, Dr. Travis can identify, and correct with specific chiropractic adjustments the results of life stresses, traumas, and other physical, emotional, or chemical assaults which are interfering with and diminish our body's health and our well-being.
In 2004 Dr. Travis graduated chiropractic college and remained in Georgia. Here, he practiced chiropractic in the South Georgia region. This is where he met the love of his life, Kathy, and they got married in 2015.
For many years Dr. Travis wanted to return to Indiana to be near family and practice chiropractic where he grew up. That desire happened and became a reality in the summer of 2021. He and his family moved to the Fort Wayne area to begin a new life and adventure. New Life Chiropractic Center has become a large part of that adventure. Dr. Travis is so glad to be here to serve you and help you "chiropractically" and professionally regarding your health and wellbeing at New Life Chiropractic.
---
Laura - Chiropractic Radiographer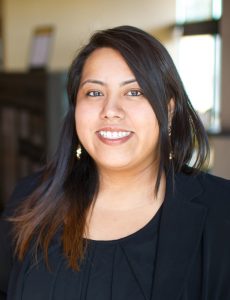 Laura became acquainted with Chiropractic at a very young age due to her brother's need of Chiropractic care. She began her personal treatment with Chiropractic care due to several health issues. Chiropractic not only gave her great relief physically, but it opened her mind to an alternative style of medicine that has proved to be effective. It not only changed her life for the better, but multiple friends and family as well. It seemed something that was meant to become part of her life.
Laura studied Missions at Olivet Nazarene University. She is very passionate about reaching out to people. She then completed a Medical Assistant program at Ross Education to build a solid foundation in the medical field. From there she made the move to Chiropractic and radiography. Laura is now a certified Chiropractic Radiographer and loves serving the patients, seeing them get better every day!
---
Rachel - Chiropractic Assistant & Wellness Consultant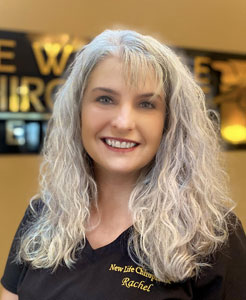 Rachel, Dr. Feeman's better half and high school sweetheart, has been under specific, scientific Chiropractic care since she was a child. Even when she was too young to understand the principles of Chiropractic, she knew the horrible migraines, cramps, and sicknesses that plagued her youth dissapeared under regular care.
Since then a lifestyle of healthy living and continued care has inspired her and Dr. Feeman to make sure that their four children live and understand the same lifestyle. Jale, Malachi, Evangelin, and Matthias have all been under regular care since birth and have avoided artificial means of traditional "healthcare," including harmful drugs, vaccinations, and medications. Rachel has been married to Dr. Feeman since 1995 and is very acitve in both her community and her church.
---
Autumn - Front Office Assistant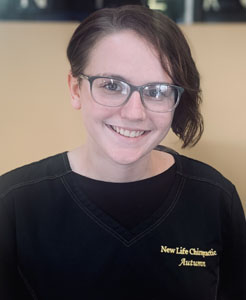 Chiropractic care was not always part of Autumn's healthcare routine, but since starting care with Dr. Joel, a shoulder injury she had since childhood, finally began to improve, and heal. She could not be happier with her health.
You will meet Autumn at the front desk smiling, answering phones, and scheduling appointments. You may also see her preforming exams and assisting patients with recommended traction. Autumn is currently studying medical imaging at Ivy Tech with a goal of helping provide care for as many people as she can. She really loves seeing people feel better and hearing all their wonderful stories
---
Matthias - Therapy Assistant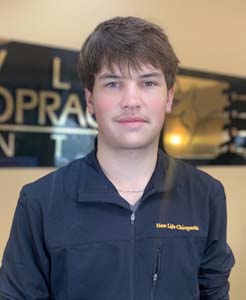 Matthias is Dr. Feeman and Rachel's youngest son. He is one of our therapy assistants here at New Life Chiropractic. You will most often find him assisting patients with in-office therapies and educating them on the use of their at-home equipment. He loves hearing the incredible stories of healing that patients experience after the specific, individualized care they receive from Dr. Feeman and his team.
Matthias is very thankful to have had the opportunity to be under chiropractic care his entire life. Constant care has kept him enjoying great health and quick recovery from a lifetime of sports and active living.
---
Payton - Therapy Assistant
Payton will be found in the office caring for patients, assisting them with therapies, and answering their questions. Payton has experienced first-hand the positive effects of adjustments along with therapies and genuinely loves helping others achieve the same life-changing experience that he has had. Being a multi-sport athlete for most of his life, he had no idea the relief and benefit that Chiropractic care would bring to his life. Now he knows there is no going back!
---
Braya - Therapy Assistant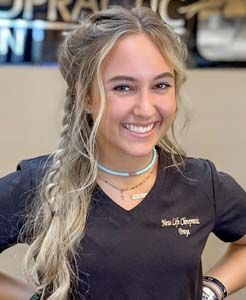 You'll recognize Braya when you see her fully engaged with patients, helping them get the very best care and benefit they can with their recommended therapies. She is full of joy and a pleasure to be around.
Braya is a full-time student, as well as the owner of her very own positivity/faith-based small business. Her hope is to build a community that helps people find Jesus' joy and to rest in Him during in hard times.
She is not sure what her future plans are but knows for a fact it will involve helping others in some way, shape, or form while doing her best to shine the Light of Jesus.
Braya started Chiropractic care with Dr. Feeman in the Spring of 2021 due to debilitating health issues that took her from being extremely athletic and healthy to struggling to even walk. Since receiving care from Dr. Feeman, her mobility, strength, energy, and nerve function have improved greatly. She believes that New Life Chiropractic is truly moving her in the path to becoming the best version of herself!
Monday
9:00am - 11:00am
3:00pm - 6:00pm
---
Tuesday
5:30pm - 6:30pm
---
Wednesday
9:00am - 11:30am
3:00pm - 6:00pm
---
Thursday
9:00am - 11:00am
3:00pm - 6:00pm
---
Friday
Closed
---
Saturday
Closed
---
Sunday
Closed